Arrows in the Quiver Gallery
THE FINE ART OF Doug Mays CSPWC

(Revised December 18, 2019)

Please scroll down to see the current and future events
2020
Monday to Thursday, February 3rd to 6th - Workshop 1 - 4-Day Watercolour (Studio) workshop in San Miguel de Allende, Mexico (SMA). In the 4 days we will utilize the amazing colour and energy of San Miguel's motifs for demonstration purposes. Each of the 3 workshops will differ in respect to lessons, techniques and demonstration paintings. All enrolments for SMA workshops are made directly with the registration office of the Insituto Allende prior to the start of the workshop. The Insituto Allende can be reached by email at recepcion@instituto-allende.edu.mx or phone (415) 152-0929 or (415) 152-0190. To get more information about these workshops, please contact me at aitq@cogeco.ca
Monday to Thursday, February 17th to 20th - Workshop 2 - 4-Day Watercolour (Studio) workshop in San Miguel de Allende, Mexico (SMA). In the 4 days we will utilize the amazing colour and energy of San Miguel's motifs for demonstration purposes. Each of the 3 workshops will differ in respect to lessons, techniques and demonstration paintings. All enrolments for SMA workshops are made directly with the registration office of the Insituto Allende prior to the start of the workshop. The Insituto Allende can be reached by email at recepcion@instituto-allende.edu.mx or phone (415) 152-0929 or (415) 152-0190. To get more information about these workshops, please contact me at aitq@cogeco.ca
Monday to Thursday, March 2nd to 5th - Workshop 3 - 4-Day Watercolour (Studio) workshop in San Miguel de Allende, Mexico (SMA). In the 4 days we will utilize the amazing colour and energy of San Miguel's motifs for demonstration purposes. Each of the 3 workshops will differ in respect to lessons, techniques and demonstration paintings. All enrolments for SMA workshops are made directly with the registration office of the Insituto Allende prior to the start of the workshop. The Insituto Allende can be reached by email at recepcion@instituto-allende.edu.mx or phone (415) 152-0929 or (415) 152-0190. To get more information about these workshops, please contact me at aitq@cogeco.ca
Sunday, April 26th - 1-Day Workshop at the Burlington Family Y - 500 Drury Lane, Burlington, ON. Theme - Painting with Mood
August
August 8th to 22nd - Limoux, France. I'll be returning to Le Monastere Adventures for a 7th time to conduct a 2-week workshop and to paint the beautiful vistas of southern France. For details, please contact me at aitq@cogeco.ca (Sorry FULL, waiting list only)
September
October 24th - 1-Day Watercolour Workshop for the Lakeside Pumphouse Artists Association in Grimsby, ON. For details, please contact workshop coordinator Joyce Richardson at richjoyce1@gmail.com. Theme TBA.
November 7th & 8th - 2-Day workshop - Cambridge, ON - at the Cambridge Centre for the Arts. For more information please contact Tiina Price at tiinaprice@rogers.com or me at aitq@cogeco.ca. Theme - Four Land/Sea Scapes.
November 15th - 1-Day Workshop at the Burlington Family Y - 500 Drury Lane, Burlington, ON. Theme TBA.
Stay tuned for additions made periodically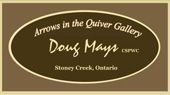 .............. Committed to the Promotion of Original Art
© 2005-2009 Arrows in the Quiver
Web Site Designed by Doug Mays and
Created by Home and Small Business Computer Services Inc.